What Is The Macbook Air Good For?
What is the Macbook Air good for?
The MacBook Air, released in 2020 with the new Apple M1 chip, gives an upgraded performance compared to earlier versions. It is proving to be a reliable model that offers excellent performance and portability alongside an attractive exterior.
You may have heard or read about its excellent specifications, but what is the MacBook Air good for?
This guide looks at what makes it a good choice and the type of work it is best suited to.
A Daily Workhorse
One of the best reasons to get a MacBook Air is to carry out your daily work tasks. It is more than capable of coping with multiple applications simultaneously and delivering fast performances.
The inclusion of Apple's new style M1 chip has created a device that can cope with hours of continuous daily use.
You might think the M1 chip was a risk compared to the trusty Intel processors, but it holds up well and has made a good impression.
One significant advantage of the newer model is the omission of a fan, meaning you aren't subjected to fan noise while working. Instead, Apple has included an aluminium heat spreader that keeps it at an acceptable temperature.
Another benefit of the MacBook Air is Its ability to wake up seamlessly after being closed, even with multiple tabs open. A real timesaver when you are travelling.
Connectivity is excellent with Thunderbolt 3 and USB 4 ports. You will also find that the standard 8GB of RAM is more than enough for the average user, although you can get 16GB models if needed.
As for wireless connectivity, you get Wi-Fi 6 and Bluetooth 5, although there is no option yet for 4G or 5G.
The ergonomic design of the MacBook Air makes typing and using the trackpad easy and reduces strain.
On the Move
Of course, one of the main reasons for the MacBook Air's popularity is its ergonomic and lightweight design that makes it easy to carry and use whilst travelling or moving between the office and home.
Battery life is an essential component of any laptop that promises to deliver on the move.
Apple promises 18 hours of video playback and 15 hours of internet connection on a single battery charge which is 50% more than the last MacBook Air. The improvements seem to be through increased efficiency.
While you may not achieve those claims, getting over 10 hours on a single battery charge is not unusual, making it highly desirable as a portable office. Many apps require translation by Rosetta 2, which uses additional battery performance, so as manufacturers optimise their apps for the new processor, you may see increased battery performance.
You can improve battery longevity by turning down the brightness on the screen display and entering flight mode. This should get you an extra couple of hours.
Its lightweight and slimline design, weighing just 1.2KG continues to provide the kind of attractive appearance that you are happy to grab and go. Of course, the 2560 x 1600 screen with up to 400 nits of brightness is perfect for most processes, and you needn't worry about a mouse with an excellent Magic keyboard and trackpad.
The built-in security of the Touch ID fingerprint login is an extra feature that will give you peace of mind when you are out and about.
Video Conferencing
The built-in speakers and mic are good with a two directional output and quality sound, but the webcam only has 720p resolution. Apple has made improvements to replicate real-time processing from the iPhone, but your image may still be compromised on video calls.
Overall, the MacBook Air will be adequate for most people's video conferencing, but an upgrade to the Pro may be required for hosting webinars.
Photoshop and Video Editing
If you need to use multiple intensive apps, the MacBook Air will not let you down. Even with numerous tabs open in Chrome, it can easily handle Photoshop and video editing apps.
The M1 chip is an excellent example of a superior processor designed to cope with demanding processes and still provide impressive speeds.
The seven core GPU is perfect for most creative tasks that are graphics heavy.
You have a choice of 8GB or 16Gb of RAM. The graphics memory is integrated, which Apple claims makes it more efficient. There certainly does not appear to be problems with the graphics performance.
The screen resolution of 1,680 x 1,050 performs well in most situations with excellent colour accuracy. It delivers an impressive 98.7% of the DCI-P3 colour space, while peak brightness can reach 414cd/m2 at a contrast ratio of 1,034:1, making it superb for image and video editing.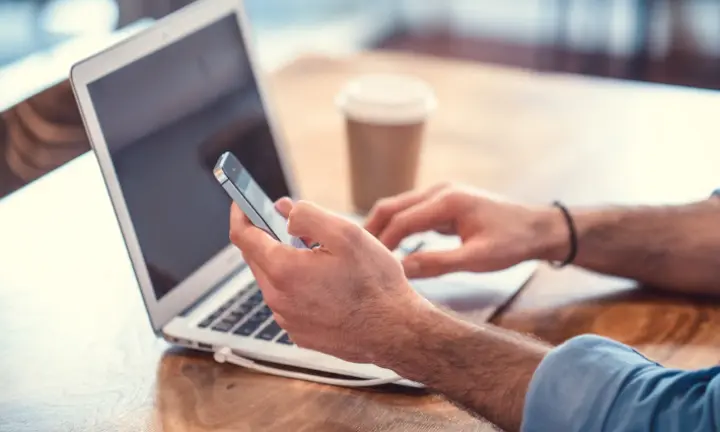 Gaming
App compatibility could have been an issue, but the MacBook Air has resolved this with Rosetta 2, which acts as a translator for non-Apple apps. Although they take a few seconds longer to launch, there are no significant delays or framerate issues.
The integrated GPU seems to hold its own compared to a gaming laptop with a low-end graphics card. It even outperforms some laptops that have a discrete GPU.
Apple designed the M1 chip to work with Rosetta 2, and this collaboration has led to a pretty seamless operation in graphics-heavy applications.
Most big software manufacturers have already optimized their products to work with the M1 chip, so compatibility is less of an ongoing issue.
Value for Money
The MacBook Air retails at less than £1000, making it excellent value for the spec compared to the Pro versions of the MacBook. You can expect to pay around £1300 for The MacBook Pro 13 inch.
If you need the increased performance and eight core GPU, then the Pro makes a better choice, but overall, the MacBook Air is great value and fairs comparably with similar priced Windows laptops.
There is due to be a new release of the MacBook Air in Autumn 2022, and rumours suggest there will be a unique design with a new M2 chip in an even lighter weight build.
Want To Buy Some New Tech?
Browse through hundreds of our products from trusted suppliers such as Apple, Dell, Samsung & more!
Leave your details, and we will call you.
Take a look at
our services.
Get in touch.
We'd love to hear from you.
Give us a call, send an email or drop us a note and we'll call you back.