Should I buy a Mac Mini or a MacBook Pro?
Should I buy a Mac Mini or a MacBook Pro?
If you are choosing between a MacBook Pro or Mac Mini, you will need to consider the differences in specifications. Your main factors may include price and portability, but different versions offer other choices.
This guide looks at the main differences between a Mac Mini and a MacBook Pro in terms of performance, connectivity and software options.
Mac Mini or MacBook Pro – Performance
When considering the performance of the Mac Mini and MacBook Pro, you must think about the processors and memory capacities.
One thing to note is that new versions of the Mac Mini come with a choice between the Apple M1 or Intel chips, while the Mac Book Pro only offers the Apple M1 chip.
M1 Mac Mini or M1 MacBook Pro
It is easy to compare the Apple chips as both the M1 Mac Mini and the M1 MacBook Pro 13 inch have a similar performance thanks to the inclusion of the same standard M1 processor with eight cores designed to cope with demanding processes and offer superior speeds.
The eight core GPU is perfect for creative tasks and light gaming.
When it comes to memory, 8GB is standard on both models, with an option for 16GB.
Intel Mac Mini
The Intel model has a 3GHz six-core Intel processor with integrated graphics, which most users will find less powerful than the M1 processor. The significant advantage to the M1 might be that you can have an optional upgrade to 32GB of RAM.
Mac Book Pro 14 and 16 inch
These models come with M1 Pro or M1 Max Apple chips.
The M1 Pro has either an eight or ten core processor with extra high-performance cores and twice the memory bandwidth. You can expect almost 70% more performance than the M1 regarding multi-core processes.
You will also have 14 or 16 core GPU in an M1 Pro with an option of 16 or 32GB of memory. Since the memory is shared between the GPU and CPU, it is an excellent choice for 3D imaging.
Anyone looking for live editing capabilities will appreciate the ProRes video acceleration.
Now, the M1 Max is a game-changer. With power comparable to a PlayStation 5, you will find double the memory bandwidth and double the GPU cores. Alongside better ProRes hardware acceleration, this is a good choice for streaming.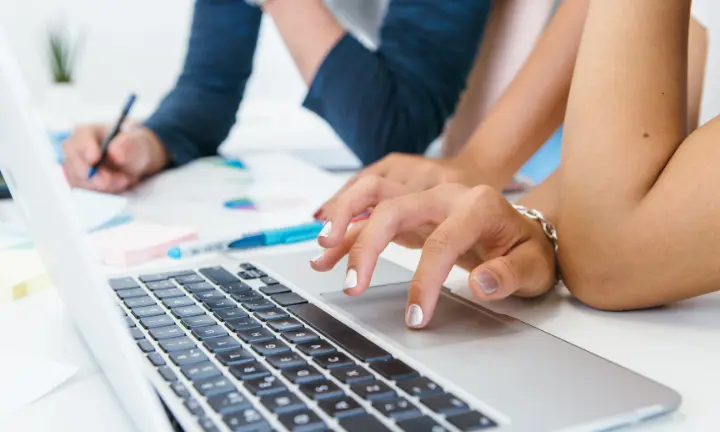 Mac Mini or MacBook Pro – Connectivity
Mac Mini
The Mac Mini design is very familiar with its small silver or grey block of 19.5cm x 3.5cm.
The M1 version has two USB C ports, two USB A ports, an HDMI connector, a 3,5mm jack and a Gigabit Ethernet port. It can support two additional displays.
The Intel version has an additional two USB C ports. It can support three additional displays.
MacBook Pro 13 inch
This slimline and lightweight device is highly portable and made of aluminium. It is well known for its impressive trackpad and excellent keyboard.
However, it lacks some connectivity with just 2 USB C ports and a 3.5mm jack.
MacBook Pro 14 and 16 inch
These newer models have a retro design reminiscent of the old iBooks.
It improves on the 13 inch model with extra connectivity. It has three USB C ports (Thunderbolt 4), an HDMI port, an SD card reader, a 3.5mm jack and a MagSafe charging connector.
The M1 chip model can connect to two external displays, while the M1 Max models can connect to three external displays.
Mac Mini or MacBook Pro – Software
Both the Mac Mini and the MacBook Pro run on the latest version of macOS. The Intel version of the Mac Mini may have some better compatibility with software and apps.
On the M1 processors, you will find that most software offers an Apple compatible version, including names like Microsoft, Adobe and Serif.
It is possible to run them through Rosetta 2, a translation layer where compatible software is not directly available. You may find a slight reduction in processing speed, but since the M1 chips have superior performance, you should not see this as too much compromise.
If your main aim for using these devices is for creative work, it is worth checking out reviews of your favourite software since any issues are likely to be highlighted, and you can decide if this is a dealbreaker for you.
What are the main other differences between the Mac Mini and MacBook Pro?
Screen

– The MacBook Pros have built-in displays, while the Mac Mini needs to be connected to an external display.



Sound

– You will find a great stereo speaker in all MacBook Pro models that creates positional audio and decent quality sound. The Mac Mini

includes a built-in speaker for warning sounds, but you will need to connect external speakers for anything additional.



Webcam

– MacBook Pros have built-in webcams, while the Mini needs an external plugin.



Keyboard and Mouse

– The MacBook Pros have an excellent built-in keyboard and trackpad with Touch ID fingerprint unlocking. The Mac Minis need an external keyboard, and you can buy an

Apple Bluetooth version

that includes Touch ID for the M1 models.



Portability –

The Mac Mini offers no portability, while

the MacBook Pro gives you excellent portability with up to 17 hours of battery life, depending on usage.



Price

– The cheapest Mac Mini will set you back just £699, while the most

affordable MacBook Pro 14 will cost £1899. You need to consider the additional cost of peripherals for the Mac Mini, such as display, keyboard and speakers.
Mac Mini or a MacBook Pro – Summary
In terms of processing, the M1 Pro and M1 Max make these MacBook Pros models an obvious choice for anyone looking for a slimline device that needs ultimate power and processing capabilities. You won't find more in a similar size Windows device, and it outsmarts the Mac Mini until Apple brings out a model with these chips.
However, many users will not require such high performance and will find the more economical standard M1 chip adequate for most purposes.
The Mac Mini is the winner regarding connectivity, so if you need a set-up with multiple displays and connections, this may make a better choice. If portability is essential, but you require external displays when in the office, the larger MacBook Pros offer more selection.
If you can sacrifice some performance and connectivity whilst keeping portability and battery life at the top of your list, the 13 inch MacBook Pro is the more economical choice.
Want To Buy Some New Tech?
Browse through hundreds of our products from trusted suppliers such as Apple, Dell, Samsung & more!
Leave your details, and we will call you.
Take a look at
our services.
Get in touch.
We'd love to hear from you.
Give us a call, send an email or drop us a note and we'll call you back.