BlockFi's New Crypto Credit Card: Features, Fees, and What to Expect
BlockFi's New Crypto Credit Card: Features, Fees, and What to Expect
BlockFi has a new crypto credit card that is the first one ever where you can earn Bitcoin back with each one of your purchases. They have a waiting list that is for anyone who has a funded BlockFi account. You need to use the BlockFi app. Continue reading to learn all about the new BlockFi crypto credit card and how it works.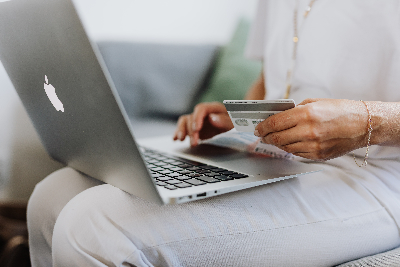 How Does the BlockFi Crypto Credit Card Work?
This card is quite simple to use. You can apply for the card if you have a funded BlockFi account on the BlockFi app. Once you are approved, they will give you a credit limit. This limit is given in USD. You can spend this amount of money on the card each month, and if you pay the balance in full, you won't have to pay any interest. 
Every time you make a purchase, you will earn 1.5% cash back. It will be converted to Bitcoin and deposited into your BlockFi account each month. The card is metal, and it has a great design. Another benefit to signing up is that they will pay a sign-up bonus of around 180 GBP in Bitcoin once you spend the equivalent of about 2170 GBP ($3,000) in the first three months. They plan to add more offers and features as well as other benefits once they launch.
The Benefits of the Bitcoin Card
BlockFi believes that this card will change the way people earn Bitcoin in a few important ways. It is the first credit card ever used for crypto, and the Bitcoin logo is on the card. They are offering 1.5% cash back on all purchases, and they will deposit the rewards each month. This is the highest Bitcoin rewards program out there. In addition, it is a credit card rather than a debit card, and it gives people an opportunity to build credit. 
Their goal is to make this card a financial tool for everyone, where they can earn Bitcoin while making their standard purchases. It can also introduce Bitcoin to people who are interested but haven't been involved before. There is no annual fee to use this card. 
This card will only be available in the United States initially, but they do have a waiting list and they will let you know when it is available in other countries. If you have a funded BlockFi account, you can join the waiting list right away.
Other BlockFi Services
You will need a BlockFi account if you want to join the waiting list. One type of account is a BlockFi Interest Account, where you can earn up to 8.6% APY. The interest accrues daily, and they pay it monthly. This type of account has no minimum balances and no hidden fees. 
BlockFi offers some of the best returns of any platform, and it is easy to use. You have complete control over your accounts and your assets. They also have the BlockFi app, where you can manage your account from your other devices. 
They allow you to choose the cryptocurrency for your interest payments. It can be a stablecoin, ether, or Bitcoin. They also have a very secure site, and they will protect your personal and financial information. 
Another type of account they offer is a BlockFi Trading Account. You can buy, sell, and exchange a number of different cryptocurrencies and you can earn interest on anything you buy. You can choose your currency, and your trades are instant. You will start earning interest as soon as you submit your trade. 
Another product they offer is crypto-backed loans. They have rates as low as 4.5% APY, and you can use the crypto in your account to back the loan. This way you will be able to continue holding your investments and access the cash you need. 
All About BlockFi
BlockFi was founded in 2017, and it is located in New York City. Their first product was USD loans backed by cryptocurrency. They began offering the interest bearing account in 2019, and these accounts are available to anyone worldwide. The loans are currently only available in the United States. The average balance for their retail clients has increased by 500% in the past year. 
Although the Bitcoin credit card will only be available in the United States initially, they anticipate opening it up in other regions at a later time.
How Is BlockFi Different From its Competition?
One factor that distinguishes BlockFi is that it is US based and regulated. It is a retail-focused interest earning platform, and it is institutionally backed and does not use a utility token. They have a significant amount of equity funding, and they have support from a number of leading companies. They have pulled in talent from across a number of fields, including startups, traditional finance, and tech. They actually have more than 300 employees around the world.
How Does the BlockFi Waiting List Work?
The BlockFi waiting list is open to everyone. You can submit your name and email, and they will notify you when the credit card is available. The waitlist is set up similar to a line, so you have to wait your turn to be offered a chance to get the card. If you refer other people and they join the waitlist, you will be bumped up on the waitlist. Your position on the waitlist is based on when you sign up and how many successful referrals you have.
Final Words
BlockFi is offering the first ever Bitcoin rewards credit card. Everytime you make a purchase, you will earn 1.5% back in Bitcoin, which will be deposited into your BlockFi interest account. You must have an account to apply for the card, but it is easy to set up. 
There are many bonuses and offers available with this card. The catch is that it will initially be offered in the United States, but they do plan to expand to other countries. No matter where you live, you can join the waiting list, and they will let you know as soon as it is available to you. 
Want To Buy Some New Tech?
Browse through hundreds of our products from trusted suppliers such as Apple, Dell, Samsung & more!
Leave your details, and we will call you.
Take a look at
our services.
Get in touch.
We'd love to hear from you.
Give us a call, send an email or drop us a note and we'll call you back.