Best Gaming Monitors
If you're a serious gamer, you know that having the right tech is essential. From controllers to PCs, gaming monitors are no exception. With so many options out there, it can be hard to choose the best one for your needs. That's why we've put together this list of some of the best gaming monitors on the market today.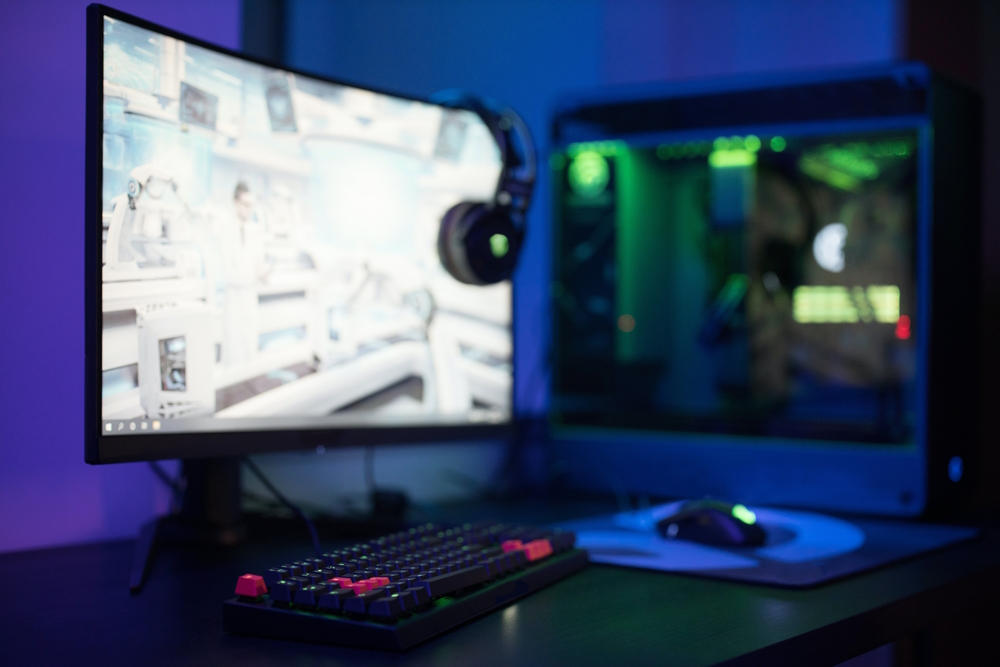 What to Look for in a Gaming Monitor
When shopping for a gaming monitor, there are several factors to consider. One of the most important factors to consider is the resolution. A higher resolution will provide a clearer image. Another important factor to consider is the refresh rate.
A higher refresh rate will result in a smoother image, while a lower refresh rate will result in a choppier image. Finally, gamers should also consider the response time of the monitor. A lower response time will mean that there is less input lag, which is important for competitive gamers.
That's why we are going to split our picks of monitors into three segments, starting off with some of the highest refresh rates monitors you can buy!
Refresh Rate:
Gigabyte Aorus CV27Q
The Aorus CV27Q is one of the best gaming monitors on the market. It features a 27-inch Quad HD display with a 165Hz refresh rate and 1ms response time.
This monitor also supports AMD FreeSync technology to reduce screen tearing and stuttering. The design of the Aorus CV27Q is very sleek and modern, with thin bezels and a matte black finish. 
Samsung Odyssey G7
Samsung's Odyssey G7 is one of the best gaming monitors on the market. It features a curved display with a 3440 x 1440 resolution,144Hz refresh rate and 1ms response time.
It also has G-Sync compatibility, which makes it ideal for gamers who want the best possible gaming experience. The Odyssey G7 is also very well-built and looks great, with a sleek design that will complement any gaming setup.
Alienware 27 AW2721D Gaming Monitor
The Alienware 27 Gaming Monitor is one of the best gaming monitors on the market. It features a 27-inch display, a 240Hz refresh rate, and G-Sync technology for buttery smooth gameplay. With a 1ms response time, this monitor is a great option for competitive gamers. Plus, it has an eye-popping design that will make your gaming setup look next level.
Panel Type
Aorus FO48U 4K OLED monitor
The Aorus FO48U is a 48-inch 4K OLED monitor that offers an immersive gaming experience. Yes, it is on the heavier on the size, but we promise this is worth it.
With a 120Hz refresh rate and 1ms response time, this monitor is perfect for fast-paced gaming. The HDR support ensures that you get the most out of your games, and the FreeSync Premium technology eliminates screen tearing and stuttering.
The wide viewing angles and adjustable stand make it easy to find the perfect viewing position, and the built-in speakers provide rich, clear sound. The Aorus FO48U is one of the best gaming monitors on the market, and it's sure to take your gaming to the next level. 
Alienware 34 QD-OLED (AW3423DW)
Looking for a smaller OLED monitor? This monitor features a 34-inch Curved Quad HD (3440 x 1440) OLED panel with a 21:9 aspect ratio. It also has a refresh rate of 175Hz and a response time of 0.1ms! Additionally, this monitor is G-Sync Ultimate compatible and has HDR support.
One of the things that makes the Alienware 34 QD-OLED stand out is its design. The monitor has a sleek and modern look that will definitely turn heads.
 Additionally, the monitor is very adjustable, so you can find the perfect viewing angle for your needs. The only downside to this monitor is its price tag; however, it is definitely worth the investment if you are looking for the best gaming experience possible.
Response Time 
LG 27GN950-B Monitor
The LG 27GN950-B is one of the best nano panel type gaming monitors currently available. It boasts a 27-inch 4K UHD IPS display with a 144Hz refresh rate, 1ms response time, and HDR400 support.
This makes it ideal for both casual and competitive gamers alike. In addition, the monitor features AMD FreeSync Premium Pro and G-Sync Compatible technology for tear-free gaming experiences.
 ASUS ROG SWIFT PG42UQ
This monitor has a 4K resolution and comes with G-Sync technology that makes your gaming experience smoother. With a 0.1ms MPRT, this monitor also has an ultra-low input lag that ensures you won't miss a beat when playing fast-paced games.
What fits your needs?
When it comes to finding the best gaming monitor for your needs, there are a few things you need to take into account.
First and foremost is what kind of games you want to play. If you're looking to get into the latest first-person shooters, then you're going to need a monitor with a high refresh rate and low response time. 
On the other hand, if you're more interested in strategy games or RPGs, then you can get away with a lower refresh rate.
Another important factor is your budget. Gaming monitors can range in price from a few hundred dollars to over a thousand dollars.
So it's important to figure out how much you're willing to spend before you start looking at options. Once you have a good idea of what you need, then you can start looking at different models and brands. There are a ton of great options out there, so it's just a matter of finding the one that fits your needs the best.
Looking for your dream monitor? Or need help with choosing your perfect set-up? For all your hardware, software and support needs, contact us at Techfident today! Our team of experienced technicians can help you select the best hardware for your specific needs and provide setup and installation services.