Best Budget Laptops of 2022
Best Budget Laptops of 2022
If you need a new laptop but your budget is tight, you know you will have to compromise on some features and quality. However, depending on your needs, it is possible to source a suitable quality laptop without splashing the cash.
When buying laptops, especially for commercial settings, it is essential to consider what you expect from your devices.
We have reviewed some suggestions for laptops that will perform nicely and give you a decent computing experience for your investment.
Here, we have looked at some of our recommendations for budget laptops under £500, starting with the lowest priced.
ASUS

ExpertBook B1 

HP 255 G8 Notebook

Dynabook Satellite Pro

Lenovo V V15 Notebook

Dell Vostro 3510 Notebook
ASUS ExpertBook B1
Best For Customisation
The ASUS ExpertBook B1 is a great choice for any business that needs high performance at under £450.
Best Features
AMD Ryzen 3 3250U Processor




NVIDIA® GeForce® discrete graphics




Up to 48 GB memory




Frameless display design




Multiple port choices
This Asus model is designed to cope with a multitude of processes. The advanced 11th Gen Intel® Core™ processor will cope with a heavy workload and won't slow you down.
Asus has built their ExpertBooks to be durable, robust and slimline. A significant advantage is the ability to upgrade the RAM as required – this laptop has space for up to 48GB.
Connectivity is a doddle with WiFi 6 technology that will source the best signal available. A wide choice of ports is available, including the industry-leading Intel® Thunderbolt™ 4 for super-fast connectivity and data transfer.
This laptop provides a comfortable user experience with well designed and large keys on the keyboard and a practical touchpad. The noise cancelling speaker makes conference calls a dream.
The B1 is a good model that bridges the gap between budget and performance laptops.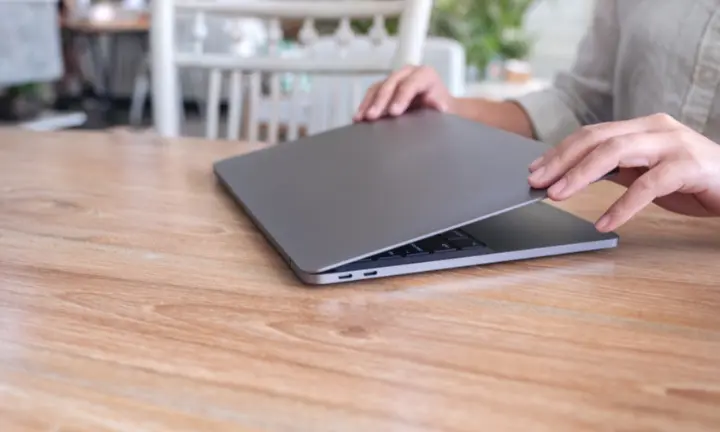 HP 255 G8 Notebook
Best For Affordable Portability 
The HP 255 G8 Notebook is a realistic budget model at under £450. It provides plenty of possibilities in a compact format – making it one of the most portable models on the market.
Best Features
Quiet




8GB of DDR4 RAM




Good performance




Compact
The 255 G8 Notebook by HPl has an AMD processor capable of multitasking and performing well. With inbuilt 8GB of DDR4 RAM, it will cope with most lightweight to middleweight tasks.
What makes it great is the flexibility to use it in pretty much any location – the HP 255 G8 has an anti-glare fully HD display, meaning that the screen looks great wherever you are. This is aided by the extremely portable design of the laptop – it's compact nature and long battery life means that there are very few places that you cannot use this laptop. 
Dynabook Satellite Pro C50D-B-10B
Best Affordable Laptop With A Premium Feel
The Dynabook Satellite Pro C50D-B-10B is a premium laptop at a budget price of around £575. It offers affordable performance and durability.
Best Features
AMD Ryzen™ Processor




Radeon™ Graphics




8GB of DDR4 RAM, with room for up to 32GB




USB Type-C™ port




Anti-bacterial coating
The AMD Ryzen processor and Radeon Graphics mean that this laptop is set up for almost any task. You will get a solid mid-range performance at an affordable price.
The 8GB of Ram comes in configurable slots and so can  be altered if required – this laptop has room for up to 32GB of RAM.
This laptop stands out for business because it has been designed to cope with constant use without overheating. As well as being reliable, it offers a good keyboard and click pad that will reduce the strain for users.
Combining its robust design with a host of peripherals like the range of ports make it a great choice as an office laptop where the accurate input of data is essential. The battery will keep going for a whole day, providing reasonable portability if needed.
The Dynabook brand isn't flashy or particularly well-known, but it is a reliable choice at a reasonable price.
Lenovo V V15 Notebook
Perfect For Everyday Use
The Lenovo V15 is the perfect laptop for all office work and everyday tasks. Whilst this computer isn't designed to support demanding applications, it can more than handle all of the standard processes that you carry out on a daily basis. This laptop is professional, clean and secure – perfect for working in the office.
Best Features
Lightweight




256GB SSD




Vivid bright display




Fully HD anti-glare display




In-built privacy shutter




Long battery life
This laptop has been designed for doing business on the go. Its small size is perfect for travelling, and its excellent battery life makes it an ideal choice for people who are out and about. Coupled with its fully HD anti-glare display, preventing eye fatigue and meaning that there are very few places that you can't use this laptop.
The built-in full Windows 11 experience means you can use Microsoft 365 to its full capabilities, so you get a much better work experience than with a tab
The Intel Pentium Gold processor is decent but will give you some lag if you use intense applications like photoshop. However, you won't be disappointed by the screen or audio that ensure it is an excellent choice for video calls.
Dell Vostro 3510 Notebook
Best For Office Work On The Go
The Dell Vostro 3510 is a great little laptop that performs well enough to hide the fact that it is priced at under £470.
Best Features
Excellent Performance




8GB DDR4 RAM




Robust build quality




Windows 10 Pro




Long battery life
This laptop is designed to perform well with its 11th Gen Intel® Core™ i3 processor, 8GB of DDR4 RAM, and 256GB of SSD storage.
Although this machine comes with 8GB of RAM, it is possible to increase this to up to 16GB if you need to carry out more memory-intensive tasks.
The 11th Gen i3 Intel Processor is good enough to cope with most day to day processes and performs well without any noticeable lag.
The outside of this laptop doesn't disappoint either – this laptop looks clean and modern. It is made from plastic, masquerading as metal,  but is strong enough to make it a durable choice.
Want To Buy Some New Tech?
Browse through hundreds of our products from trusted suppliers such as Apple, Dell, Samsung & more!
Leave your details, and we will call you.
Take a look at
our services.
Get in touch.
We'd love to hear from you.
Give us a call, send an email or drop us a note and we'll call you back.