Are Refurbished PCs Good?
Are refurbished PCs good?
It isn't uncommon for people to consider purchasing a refurbished computer, especially if they want to save some money. The question many people have is whether the potential to save money is worth the risk of a poor investment.
The quick answer is that buying a refurbished computer can save you money and prove to be an economical purchase, but there are some things you need to think about before going ahead.
What is a refurbished computer?
Refurbished computers are used computers that have been repaired professionally and inspected for quality control purposes. The finer details will vary between different retailers and manufacturers.
When thinking about whether refurbished computers are good to buy, you need to know more about the processes involved.
A refurbished computer has often been returned to the manufacturer or retailer, who will undertake an inspection and make any essential repairs before reselling it at a discounted price.
Usually, you will find that previous data has been wiped, and it will have been returned to factory settings. Some retailers will use a grading system to indicate the quality of the refurbishment.
Computers that have been returned may have been faulty and required a repair to make it work. Other times, computers have been returned because of a cosmetic issue, a wrong purchase, or they are an unwanted gift.
This means you might be buying a refurbished computer that never had a problem, or you may get one that needed an essential repair. Whatever the reason, if it is sold as refurbished, you should expect it to be functioning as a new device although it is no longer a new product.
Advantages and Disadvantages of Buying a Refurbished Computer
Buying a refurbished computer may seem like a risk, especially if you want a robust, long-lasting computer. In terms of getting good value, you should consider some advantages and disadvantages.
Advantages of Refurbished Computers
Price – With a suitable, refurbished device, you will be getting a product that works like new for a reduced price. If the refurbishment has been done well, you could be getting yourself a bargain as the condition will not differ from a similar new product.
Trustworthy Sellers – If you use a responsible retailer, you can be assured that any original defect will have been corrected. The repair and testing service should guarantee that you get a great product at a discounted price.
The Guardian stressed that using a reputable retailer or manufacturer can significantly increase the chance of you getting a reliable product.
Open-Box Products – These are computers that have been ordered but then cancelled. These products will have never been used and are therefore exactly as new. Retailers cannot sell these as new so they offer them at a discounted price as refurbished.
Save the Environment – With new releases and tech being introduced more often than ever, it is sad to see excellent computers ending up in landfills so users can upgrade to the latest version.
Unfortunately, computers are filled with toxic components that can cause serious harm to the environment if not recycled properly. Chemicals like mercury, lead, and beryllium can leak into the soil, destroy wildlife, and pollute water sources.
Refurbishment offers a waste friendly solution that will help take care of the planet. Since many companies have a Green policy, buying refurbished could be a great way to make a real difference to sustainability.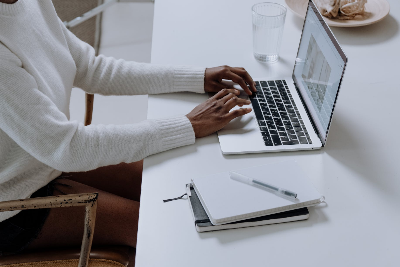 Disadvantages of Refurbished Computers
Dishonest Retailers – If you cannot be sure that a retailer has carried out inspections, repairs, and quality control checks, you cannot be sure you will get a computer without any faults. The seller's reputation is essential in deciding whether a refurbished computer will be of good value.
You can look out for reputable retailers by checking their grading system for refurbished models and look for certifications and guarantees.
Please research a retailer by looking them up online, checking their reviews and investigating their approach to testing and repairing. Generally, larger, more established retailers have better quality control than small independents, but this is not always true.
Cosmetic Damage – If you like shiny new things, refurbished computers may not be for you. Despite being repaired, a refurbished computer will often show some signs of wear and tear.
Many buyers will be prepared to overlook this to get a better quality product for less money.
Delivery Damage – Often refurbished computers are bought online and will be delivered. Delivery increases the risk of incurring damage to the hardware, especially if the original packaging is unavailable.
Shortened Lifespan – Imagine that a refurbished computer was used for 11 months before going wrong and returned under the original warranty. The retailer tests and repairs the fault and offers it as a refurb.
The problem here is that the parts have been used, and their overall lifespan may be reduced.
Is it worth buying a refurbished computer?
It's certainly true to say that some risks are associated with buying a refurbished computer. There is a chance that any repairs will not have been adequate, or the computer's lifespan may be significantly reduced.
You can offset the risks by buying from a reputable retailer and looking for good warranty cover to protect you. Many places will offer up to a three-year warranty to give you the same peace of mind as buying a new product.
You will be buying a product at a considerably reduced price, so if you do your checks properly, you could make a solid investment and save yourself considerable money.
You may also want to think about the environment. Buying a refurbished computer is a great way to contribute to reducing landfills.
Do some research into the retailer of refurbished computers and look out for the following things:
A good warranty




A specified trial period




A transparent quality control process
If you consider buying a refurbished computer or other hardware, check out Techfident. We work with carefully selected partners that have a strict grading policy.
Authorised by Microsoft as a refurbisher, products go through a robust 20 step process to ensure they are all ready to use and fully functioning.
We offer up to 3-year warranties giving you complete confidence in any refurbished products you buy.
Want To Buy Some New Tech?
Browse through hundreds of our products from trusted suppliers such as Apple, Dell, Samsung & more!
Leave your details, and we will call you.
Take a look at
our services.
Get in touch.
We'd love to hear from you.
Give us a call, send an email or drop us a note and we'll call you back.